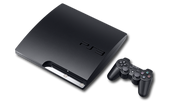 The
PlayStation 3
commonly abbreviated
PS3
) is the third home video game console produced by Sony Computer Entertainment and successor to the PlayStation 2 as part of the PlayStation series. The PlayStation 3 competes with Microsoft's
Xbox 360
and Nintendo's
Wii
as part of the seventh generation of video game systems. The PlayStation 3 was first released on November 11, 2006 in Japan.
A major feature that distinguishes the PlayStation 3 from its predecessors is its unified online gaming service, the PlayStation Network, which contrasts with Sony's former policy of relying on game developers for online play.
Sony has also demonstrated the PSP playing back video content, including 1080p content from the PlayStation 3 hard disk across an ad-hoc wireless network. This feature is referred to as Remote Play located under the browser icon on both the PlayStation 3 and the PlayStation Portable. Remote play has since expanded to allow remote access to the PS3 via PSP from any wireless access point in the world, via internet.
Reception
Edit
Despite the initial negative press, several websites have given the system very good reviews. CNET United Kingdom praised the system saying, "the PS3 is a versatile and impressive piece of home-entertainment equipment that lives up to the hype ... the PS3 is well worth its hefty price tag.
In addition, both Home Theater Magazine and Ultimate AV have given the system's Blu-ray playback very favorable reviews, stating that the quality of playback exceeds that of many current standalone Blu-ray players.
Hexus Gaming reviewed the PAL version and summed the review up by saying, "...as the PlayStation 3 matures and developers start really pushing it, we'll see the PlayStation 3 emerge as the console of choice for gaming.At GDC 2007, Shiny Entertainment founder Dave Perry stated, "I think that Sony has made the best machine. It's the best piece of hardware, without question. A second review of the PS3 by Ars Technica in June 2008 gave the console an overall mark of 9/10, while the original launch review marked only 6/10.
External links
Edit